Prolapse in Bangladesh
Posted on October 15, 2020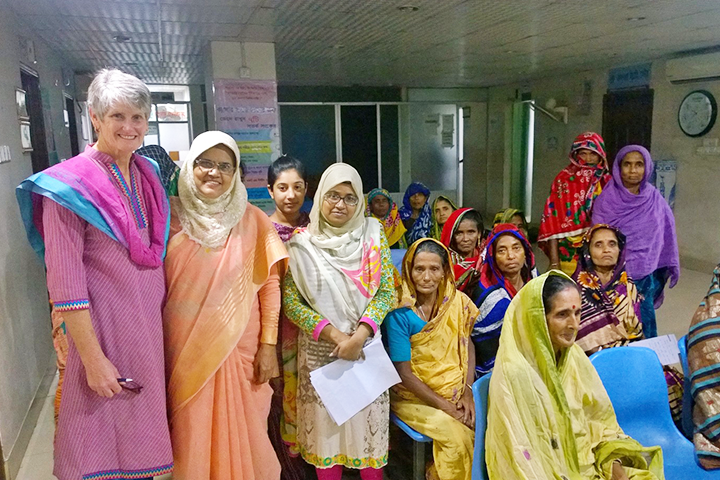 Impact Foundation Bangladesh (IFB) has been working in Bangladesh since 1993 and their mission is to improve the lives of disadvantaged people and their communities.
We work with IFB with a project called 'Proshanti' (which means enjoying peace and tranquillity). The aim of the project is to provide free surgery for disadvantaged women suffering from prolapse. Living with prolapse is a huge stigma for women and they can often be ostracised from their communities, or be considered cursed.
The incidence of pelvic organ prolapse (POP) in South Asia is huge. Research has been done in Nepal which estimates that there are up to 600,000 women (of a population of 27.8 million) suffering from POP in that country. With a population of 166 million in Bangladesh, research is scant on estimating prolapse numbers in the country. However a recent research study, estimates about 11.4  in 1,000 women who have ever given birth in Bangladesh to suffer from stage 3 and 4 POP (about 535,000).  About half of these women are aged between 15 to 49 years. Increasing age and parity are risk factors for POP and are in line with previous studies. Hence, it is safe to estimate a huge need for this project.
We work with local Bangladeshi gynaecologists who provide free surgery to poor women who are unable to afford the cost of surgery. In 2020, over 20  local Bangladeshi surgeons have been re-trained in overall prolapse management including the technique of sacrospinous fixation. In early 2020, training was extended to 2 prestigious government hospitals – Dhaka Medical College Hospital and Sylhet Osmani Medical College Hospital with the support of the Obstetrical and Gynecological Society of Bangladesh (OGSB). Each trained surgeon performs a maximum of 20 surgeries per month based on a set criteria for assessment of the degree of prolapse. Detailed patient forms are collected with consent and follow up calls to a random selection of patients is conducted to gather feedback. In addition, postoperative observations are also recorded by the participating surgeons.
This project has expanded local capacity of a cohort of excellent gynecologists and has had a cascading effect on the medical community in Bangladesh.
The program has provided over 10,000 free surgeries for disadvantaged women from 2014 to 2020.
To learn more about the outcomes of this project read our paper published in the International Urogynecology Journal here.