Pelvic Organ Prolapse (POP) Surgical Training Program in Bangladesh and Nepal
Posted on October 16, 2020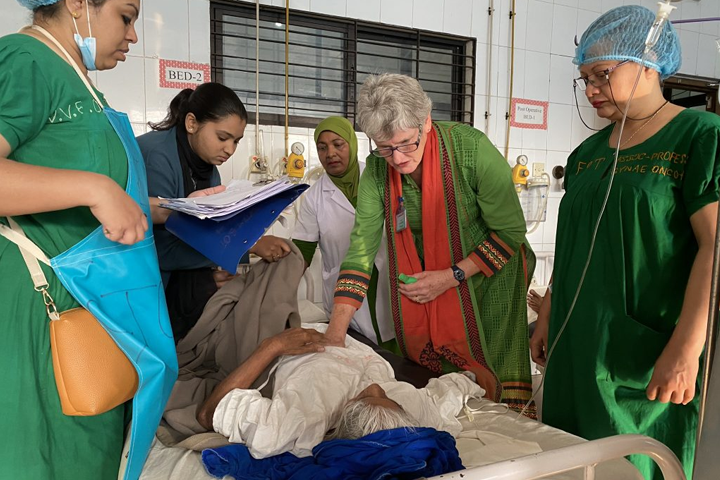 The DAK Foundation has been supporting birth injury repair, specifically in pelvic organ prolapse in Bangladesh and Nepal since 2014. Through PFE  we have funded over 10,000 prolapse surgeries for poor, disadvantaged women and provided training for over 20 doctors in overall prolapse management.
This work has recently been published in the prestigious International Urogynaecology Journal. The link to the article is available below.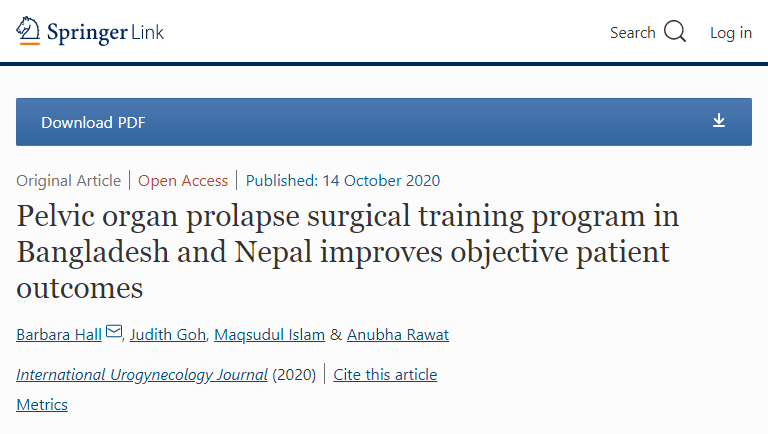 Summary of Paper
To summarise, in an early assessment of the program in 2015, we learned that there was an unacceptably high rate of prolapse recurrence and shortened vaginas in post-operative patients. We learned that patients rarely ever returned for clinical assessments of symptoms for a whole host of reasons.
Based on this assessment, through Impact Foundation Bangladesh (IFB) Proshanti project,  local gynaecologist partners were invited to participate in a surgical up-skilling program. This entailed one on one re-training in overall prolapse management with a focus on sacrospinous fixation for vault support, from 2015 onward. Since then the training team travelled to Bangladesh and Nepal several times and trained over 20 local surgeons through one on one training over 3-4 days per surgeon in their local clinics. Refresher training  was also provided 6-12 months after the initial training to reiterate the methods taught.
Through this training program, prolapse recurrence rates have fallen significantly from 76% to 45%, well within the reported ranges in large global systematic reviews of prolapse recurrence. Additionally, the incidence of unacceptable vaginal shortening fell dramatically from 56% to 4%. These comparisons are based on post-training, post-operative clinical assessments of patients that were willing to travel to the clinics for review. These results showcase the direct impact of the up-skilling program and the adaptability of the gynaecologist partners. One can suggest that through increased usage of these skills, recurrence rates have a chance of reducing further. More details are available in the paper.
Detailed data has been collected from over 10,000 patients both pre- and post-operatively with their consent, the analyses of which are presented in this paper. In addition, the necessary surgical instruments and sutures with support from Johnson & Johnson have been provided to ensure the best possible result for the patients. In mid 2018, soft silicone pessaries manufactured in Australia by the medical device company Gynaecologic were introduced. All of the surgeons on the program have been provided with pessaries, and they and their nurses have been trained in insertion and management. We are hopeful that data on pessary usage may be presented in the future.
All the training has been provided for free by the committed Dr Barbara Hall, retired Gynaecologist from Brisbane, Australia, without whom this program would not exist. The Proshanti team at IFB led by Dr Maqsudul Islam has provided project management and regular follow up with all our partner doctors. There are a strong cohort of local surgeons ready to become the next Master Trainers within Bangladesh and beyond.
In early 2020 pre-Covid,  a training program had commenced in 2 prestigious government hospitals – Dhaka Medical College Hospital and Sylhet Medical College Hospital with the support of the Obstetric and Gynaecological Society of Bangladesh (OGSB). The hope is to continue working with other government hospitals in Bangladesh and Nepal over the next few years.
We are keen to consider working with local champions in other countries that may be interested in rolling out a similar program. Understandably with Covid, the likelihood of starting a program in 2021 is low, but we would be keen to start discussions.